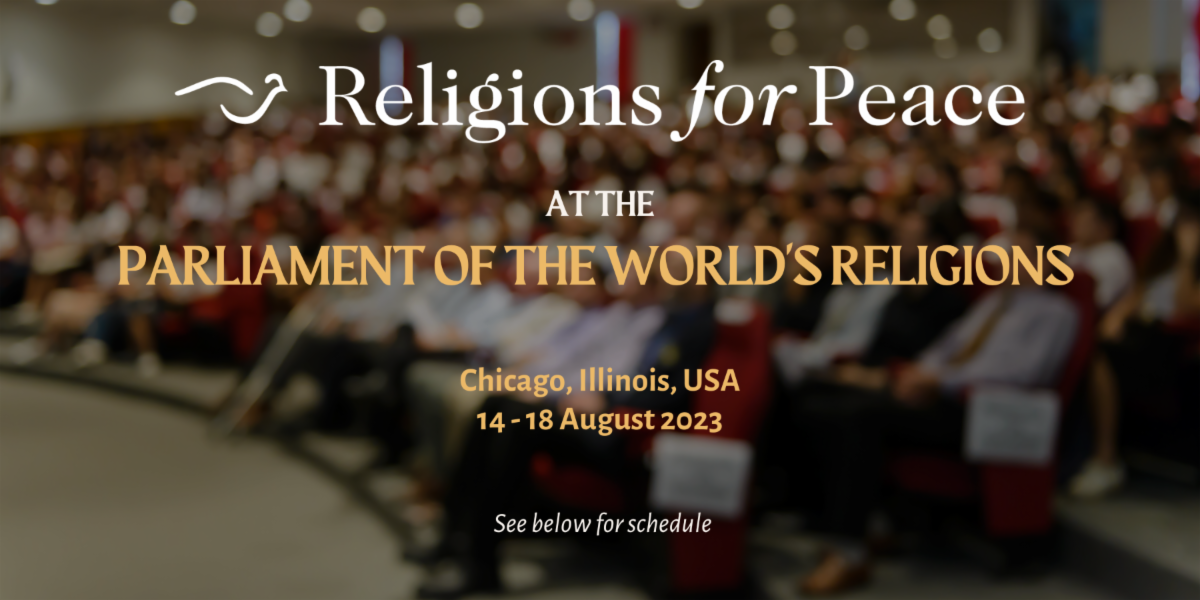 Religions for Peace is pleased to announce it will be participating in the Parliament of the World's Religions in Chicago, Illinois. From 14 – 18 August 2023, members of the Religions for Peace World Council, Religions for Peace International Youth Committee, religious leaders, women of faith, and others from our movement will be organising and participating in several panels, sessions, events, and workshops.  
In addition, Religions for Peace is pleased to invite you to The Pen and the Sword event, organised in partnership with The Ansari Institute for Global Engagement with Religion, University of Notre Dame, on 17 August at 1 PM CDT. At this event, Religions for Peace will present the Lifetime Service for Multi-Religious Peacebuilding award to recognise faith actors who have made vital contributions in their communities to advance peace and human dignity. Read about last year's prize.
The Religions for Peace International Youth Committee will be organising and presenting on three panels: Gender-Based Violence: A Human Rights Issue, The Role of Multi-Religious Youth Engagement to Promote the Human Rights of the Women and the Girl-Child, and Youth and Interfaith Peacebuilding – Practices and Examples from Around the World. These sessions will explore how gender-based violence is exacerbated by religious patriarchy, political climates, and social conditions that affect women and the girl-child and youth endeavors in interfaith peacebuilding.
As Religions for Peace joins and networks with colleagues and religious leaders from around the world, we also invite you to stop by the Religions for Peace booth in the conference hall, located in space #347. Stop by and become acquainted with our International Youth Committee, learn more about Religions for Peace, and support our movement!
To join the various panels, sessions, and workshops with members of the Religions for Peace International Youth Committee and other Religions for Peace members, please see the schedules below:


Religions for Peace Events Schedule:
Please note all times are in Chicago Standard Time/Central Daylight Time
Date and Time

Event

Room

14 August 2023

3:00 pm – 4:30 pm

Gender-Based Violence: A Human Rights Issue

Room: E450a

14 August 2023

5:30 pm – 7:00 pm

The Role of Multi-Religious Youth Engagement to Promote the Human Rights of Women and the Girl-Child

Room: 5253c

17 August 2023

1:00 pm – 2:30 pm

The Pen and the Sword

The Ansari Institute's Nasr Book Prize

with the Religions for Peace Lifetime Service Award

Room: E350

17 August 2023

1:00 pm – 2:30 pm

Youth and Interfaith Peacebuilding – Practices and Examples from Around the World

Room: E353b
Full Schedule:
Please note all times are in Chicago Standard Time/Central Daylight Time
| | | |
| --- | --- | --- |
| | Monday, 14 August | |
| 10:00 am – 12:00 pm | Opening Ceremony | Ms. Bani Dugal, Co-President of Religions for Peace |
| 1:00 pm – 3:00 pm | Global Ethic Assembly: The Global Ethic in Action | Chief Rabbi David Rosen, Co-President of Religions for Peace |
| 1:00 pm – 2:30 pm | Who Gets to Believe? Pluralism and Religious Freedom in Turtle Island/North America | Bhikkhu Vasu Bandhu, Member of the Religions for Peace International Youth Committee |
| 1:00 pm – 2:30 pm | Righteousness and Self-Righteousness: Faith Perspectives | Dr. Tarunjit Singh Butalia, Executive Director of Religions for Peace-USA |
| 1:00 pm – 2:30 pm | A Fireside Chat: Women of Faith on the Importance of Personal Growth as Peacebuilders | Ms. Bani Dugal, Co-President of Religions for Peace; Dr. Sadhvi Bhagawati Saraswati, Co-President of Religions for Peace |
| 1:00 pm – 2:30 pm | The Importance of Interfaith Coalitions in Defending Freedom of Religion or Belief | Ms. Emina Frljak, Member of the Religions for Peace International Youth Committee |
| 3:00 pm – 4:30 pm | Gender-Based Violence: A Human Rights Issue | Members of the Religions for Peace International Youth Committee: Bhikkhu Vasu Bandu, Dr. Renz Christian Argao, Ms. Emina Frljak, Ms. Fatima Hallal, Ms. Lyka Mtambo, and Ms. Ligia Matamoros Bonilla |
| 5:30 pm – 7:00 pm | Race Amity | Bhikkhu Vasu Bandhu, Member of the Religions for Peace International Youth Committee |
| 5:30 pm – 7:00 pm | The Role of Multi-Religious Youth Engagement to Promote the Human Rights of Women and the Girl-Child | Members of the Religions for Peace International Youth Committee: Bhikkhu Vasu Bandu, Dr. Renz Christian Argao, Ms. Emina Frljak, Ms. Fatima Hallal, Ms. Lyka Mtambo, and Ms. Ligia Matamoros Bonilla |
| 5:30 pm – 7:00 pm | Compassion and Forgiveness in Langar | Chief Rabbi David Rosen, Co-President of Religions for Peace |
| | | |
| --- | --- | --- |
| | Tuesday, 15 August | |
| 8:30 am – 9:30 am | Faith for the Earth | Members of the Religions for Peace World Council: Dr. Sadhvi Bhagawati Saraswati, H.H. Pujya Swami Saraswati, and Chief Rabbi David Rosen |
| 8:30 am – 9:30 am | Fostering Inclusive Spaces in Today's World | Bhikkhu Vasu Bandhu, Member of the Religions for Peace International Youth Committee |
| 8:00 am – 9:00 am | What Is The Role of Interfaith Education to Repair Injustices While Transforming the Future? | Ms. Heidi Rautionmaa, Member of the Religions for Peace European Women of Faith Network |
| 10:30 am -12:00 pm | Multi-Religious Perspectives on the Parliament's Global Ethic | Professor Anantanand Rambachan, Co-President of Religions for Peace |
| 10:30 am -12:00 pm | Judaism and the Global Ethic | Chief Rabbi David Rosen, Co-President of Religions for Peace |
| 5:00 pm – 6:30 pm | The Global Ethic and the Earth Charter in Dialogue | Chief Rabbi David Rosen, Co-President of Religions for Peace |
| 5:00 pm – 6:30 pm | Significance of Swastika – A Sacred Symbol for More Than a Billion People | Mr. Homi Ghandi, Co-President of Religions for Peace |
| | | |
| --- | --- | --- |
| | Wednesday, 16 August | |
| 8:00 am – 9:30 am | Why is the Interfaith Movement Needed in Our Time | Chief Rabbi David Rosen, Co-President of Religions for Peace |
| 8:00 am – 9:30 am | A Call to Conscience Through Liminality Towards a Global Ethic | Dr. Sadhvi Bhagawati Saraswati, Co-President of Religions for Peace |
| 1:00 pm – 2:30 pm | Faith for Water | Dr. Sadhvi Bhagawati Saraswati, Co-President of Religions for Peace; H.H. Pujya Swami Saraswati, Co-President of Religions for Peace |
| 3:00 pm – 4:30 pm | The Power of Faith to Heal and Transform | Dr. Sadhvi Bagawati Saraswati, Co-President of Religions for Peace |
| 5:00 pm – 6:30 pm | Challenging Christian and Hindu Nationalism: Shared Struggles and Opportunities | Professor Anantanand Rambachan, Co-President of Religions for Peace |
| 6:00 pm – 9:00 pm | An Urgent Call to Protect the Amazon: An Interfaith Rainforest Initiative Dialogue with Indigenous Leaders | Dr. Charles McNeill, Member of the Religions for Peace Standing Commission on the Environment; Mr. Carlos Vicente, National Facilitator of the Interfaith Rainforest (IRI-Brazil) |
| | | |
| --- | --- | --- |
| | Thursday, 17 August | |
| 1:00 pm – 2:30 pm | The Pen and the Sword: Ansari Institute's Nasr Prize With Religions for Peace | Professor Anantanand Rambachan, Co-President of Religions for Peace; Chief Rabbi David Rosen, Co-President of Religions for Peace |
| 1:00 pm – 2:30 pm | Youth and Interfaith Peacebuilding – Practices and Examples from Around the World | Members of the Religions for Peace International Youth Committee: Bhikkhu Vasu Bandu, Dr. Renz Christian Argao, Ms. Emina Frljak, Ms. Fatima Hallal, Ms. Lyka Mtambo, and Ms. Ligia Matamoros Bonilla |
| 3:00 pm – 4:30 pm | Interreligious Ecological Collaboration: Partnerships as Spiritual Practice | Bhikkhu Vasu Bandhu, Member of the Religions for Peace International Youth Committee |
| | | |
| --- | --- | --- |
| | Friday, 18 August | |
| 10:30 am -12:00 pm | Women Faith Leaders as Critical Catalysts for a Peaceful and Sustainable World | Dr. Sadhvi Bhagawati Saraswati, Co-President of Religions for Peace |
| 1:00 pm – 2:30 pm | Interfaith Engagement: Past, Present and Future | Dr. Tarunjit Singh Butalia, Executive Director of Religions for Peace-USA |
| 3:00 pm – 5:00 pm | Closing Plenary and Ceremony – A Call to Action | Mr. Bob Boisture, Treasurer of Religions for Peace; Chief Rabbi David Rosen, Co-President of Religions for Peace |