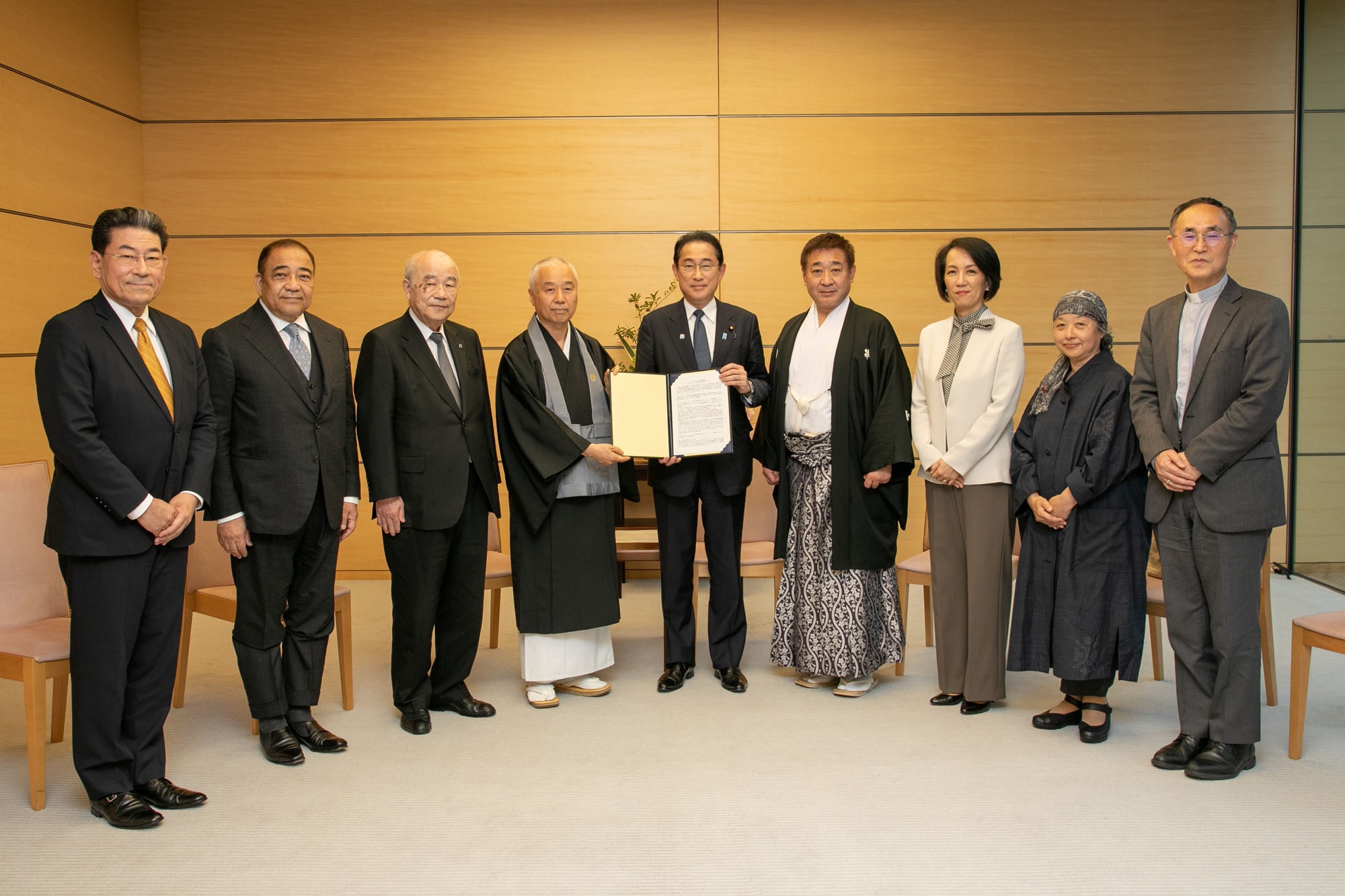 On May 15, eight representatives of WCRP/RfP Japan, headed by Ven. Yoshiharu Tomatsu, the Chairperson of the interfaith group, met with Prime Minister Fumio Kishida at his official residence in Tokyo. The religious leaders handed him a written recommendation for the G7 Summit meeting in Hiroshima. The recommendations, titled "Aiming for Sustainable Peace Guided by the Spirit of Hiroshima ," was adopted at an event organized by WCRP/RfP Japan on May 10 in Hiroshima. "I would like to keep in mind the points of this proposal in substantial discussions (at the G7 Summit Meeting in Hiroshima)," Mr. Kishida said.
WCRP/RfP Japan says the "Spirit of Hiroshima" is composed of a prayer for the atomic bombing victims, a resolution not to repeat the mistake of war ever again, a devotion to promoting the prosperity and coexistence of all humankind, and a prayer for the true world peace.
The group calls on the G7 leaders to share and promote this "Spirit." They also request the leaders consider six points, including how to avoid nuclear war and abolish nuclear weapons, the reduction of extreme economic disparities, and the adherence to religious freedom, in the proposal.
Mr. Kishida expressed his gratitude for the proposal. "Hiroshima suffered devastating damage from the atomic bombing, and since then has made a strong recovery, appealing to the world for peace. The gathering of the world leaders in Hiroshima carries great weight," he said, emphasizing the significance of hosting the G7 Summit in Hiroshima. Furthermore, he stated that Russia's unilateral change of the status quo by military force and the threat of nuclear weapons "must never be tolerated" and that the G7 should address the world to "emphasize the importance of a free and open international order based on the rule of law," he said.
Ven. Tomatsu told the Prime Minister that he had heard the testimony of A-bomb survivor Mr. Shigeaki Mori at the Hiroshima symposium where the proposal was adopted, and said, "I felt that such painful and sad feelings should never be repeated." Ven. Tomatsu appreciated Prime Minister Kishida's decision to choose Hiroshima as the venue for the G7 summit and hoped that the G7 leaders would realize what would happen if an atomic bomb was used. He also hoped that Mr. Kishida would "show leadership toward realizing a peaceful world without nuclear weapons."
In response, Mr. Kishida touched on the failure to finalize an outcome document at the Nuclear Non-Proliferation Treaty (NPT) Review Conference, which he attended for the first time as a Japanese prime minister last year. "The world is divided over the issue of nuclear disarmament," he said. "The idea of aiming at a world without nuclear weapons is a torch that we all must keep carrying on," he continued and expressed a hope to make G7 Summit in Hiroshima an opportunity "to rejuvenate a momentum to aim for a world without nuclear weapons."

Recommendations