Religions for

Peace

to Be Awarded the

European Culture Prize


on Friday, October 1st.

~~The European Cultural Foundation Pro Europa awarded the European Culture Prize~~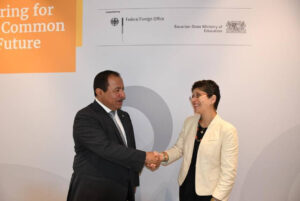 Religions for Peace, as a Faith-Based Organization, has been working hand in hand with people of different religions for world peace.
It is pleased to announce that we received a highly distinguished     Pro Humanitate (Humanitarian) prize for the extraordinary work in service of humanity, led by Secretary-General, Dr. Azza Karam.

The award winners this year are more international than ever. TV presenter and three-time Echo Klassik award winner Malte Arkona will be hosting the gala and international musicians were responsible for the program. This day became a memorable evening where culture and cross-border exchange were finally be celebrated again.
We will take this joyous day of awarding as a new beginning and continue to work hand in hand for world peace.
<a href='https://www.freepik.com/vectors/ribbon'>Ribbon vector created by macrovector – www.freepik.com</a>