Asia Pacific Women of Faith Network (APWoFN), one of ACRP's significant networks, will hold a webinar on Human Trafficking.
The webinar's title:
 "The Reality of Human Trafficking in Asia: A Virtual Summit".
Date and time:
January 14-15, 2021 @ 12:00-14:30 (

JAPAN TIME

)
Human Trafficking is such a global menace that it calls for faith-based organizations such as Religions for
Peace Asia (ACRP) to take concerted efforts in raising public awareness with the hope that those in position to lead will take action in their communities.
ACRP's women leaders are uniting across the countries to fight for human trafficking. Please join us together!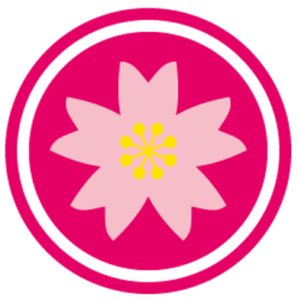 Please access the following ZOOM link to register for the symposium.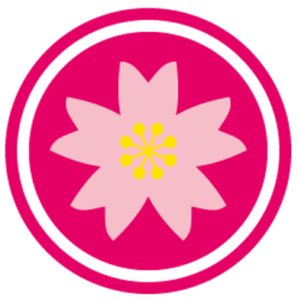 https://us02web.zoom.us/meeting/register/tZUuceypqD4iGtcAdZ7M0k1Nq0Z2tRBUxgnn
Once you complete all necessary information and click the "register" button, a passcode will be sent to your email address. 
(There is a language button at the bottom right of the registration page.)
A virtual summit on Human Trafficking (the registration form)
---
【SCHEDULE:

DAY 1

】

TIME       SESSION
12:00-12:15    Opening
                                           Interfaith Prayer                 (Prof. Pablito Baybado, Jr.)
                                           Welcome Remarks             (Rev. Nobuhiro Nemoto/Secretary-General of ACRP)
                                           Opening Remarks              (Rev. Yukiko Moriwaki/Secretary of APWoFN)
                                           Orientation by APWoFN    (Dr. Lilian Sison)


12:15-13:15        Plenary1: Spiritual Reflections on Human Trafficking
                                          Buddhism        (Rev. Yoshinori Shinohara)
                                          Islam                (Dean Macrina Morados)
                                          Christianity      (Most Rev. Yvon Ambroise (FABC))

13:20-14:20        Plenary 2: The State of Human Trafficking in South Asia

                                          Moderator       (Ms. Yasuko Miyoshi)
                                          Bangladesh      (Dr. Rashida Khanam)
                                          India                  (Dr. Deepali Bhanot)
                                          Nepal                (Ms. Pooja Manandhar)
                                          Pakistan           (Ms. Huma Ikramullah)

14:20-14:30        Wrap-up

                                          (Prof. Pablito Baybado, Jr.)
【SCHEDULE:

DAY 2

】

TIME                       SESSION12:00-12:10       Opening Remarks

                                          (Rev. Masamichi Kamiya)

12:10-13:10       Plenary 3: The State of Human Trafficking in Southeast Asia
                                          Moderator            (Ms. Haidi Fajardo)
                                          Indonesia              (Ms. Elga Serapung)
                                          Myanmar              (Daw Yin Yin Maw)
                                          Philippines            (Lilian Sison/Gigi Tupas)
                                          Thailand                (Dr. Suphatmet Yunyasit)
                                          South Korea          (Ms.Hyunmi Ahn)

13:25-14:20       Plenary 4: Special Topics
Moderator    (Dr. Jho Bagaipo)
                                         Technology and Human Trafficking                                                   (Ms. Alison Rahill/Australia)
                                         Human Trafficking from the Perspective of the Youth                       (Mr. John Ismael Medina/APIYN)
                                         Working Together to fight Human Trafficking in our communities   (Dr. Renz Christian Argao)

14:20-14:30       Closing Remarks
                                          (Dr. Deepali Bhanot/Co-Chair of APWoFN)
                                          (Dr. Desmond Cahill/Deputy Moderator of ACRP)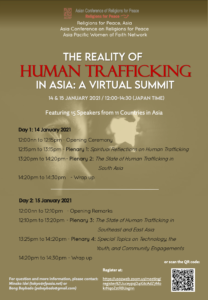 ACRP_HR ONLINE E POSTER