Ven. Bhikku Sanghasena:  Planting seeds of hope in the desert land of Ladakh
Part – 2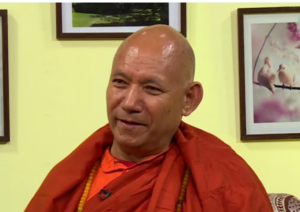 The Mahabodhi International Meditation Centre (MIMC), established by Ven. Bhikku Sanghasena in Ladakh has not lost sight of the primary goal of introducing Ladakhis to both the theory and practice of the Buddha's teachings. In fact, the Dhamma or teachings is the foundation of the entire organization. Apart from all the humanitarian work undertaken by MIMC, Ven. Sanghasena also works in Nunneries where nuns and monks are given basic monastic spiritual training along with modern secular education.
Ven. Sanghasena recognized the need to improve the status and impoverished living conditions of nuns in order to restore their self-esteem and dignity in society. This is the reason why he established the Mahabodhi Nunnery, the first of its kind with the first batch of young nuns in the year 1996. Like their fellow Dhamma brothers, they also receive both spiritual and academic education for their overall development.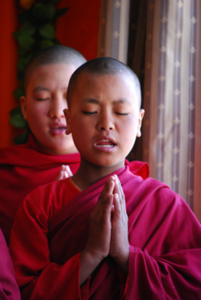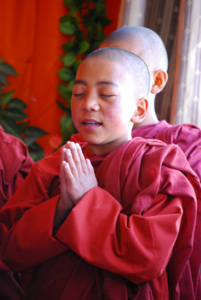 The nuns, monks, and children receive high-quality education up to class 10.  After this, the children have to go outside Ladakh to pursue higher studies. Many students drop out of their studies as this proves to be too costly for most of them. Keeping this in mind, Ven. Sanghasena has opened a girls' hostel in Chandigarh, Punjab. Presently there are 35 girls residing in this hostel and pursuing higher studies. 
"It gives me lots of joy to imagine that I have the opportunity to spend the rest of my life as a nun and serve the Mahabodhi organisation in my own capacity. I am grateful to my respected Guru, supporters, my teacher, parents and all the Dhamma friends for helping and guiding me to live my life as a nun. I am very happy and feel myself fortunate to be here". ~ Supadma (Mahabodhi Nunnery)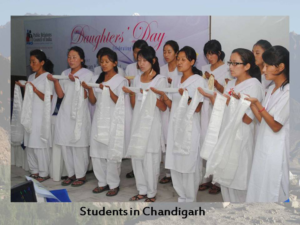 "I feel myself as an extraordinary child among my siblings as I received the opportunity to be a student and a humble disciple of my reverent teacher most venerable Sanghasena. I received love, care, a holistic education, and respect for my individuality in this institution, I couldn't have expected more than this. ~ ~Padma Sonam (Ex-student)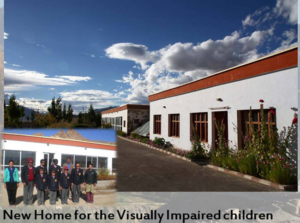 Ven. Sanghasena also established The Mahabodhi School and Hostel for the Visually-impaired Children of the Himalayan region. In order to encourage socially inclusive education in the school, the visually impaired students go to the main school and enroll in a different class according to their abilities so as not to feel discriminated against by the rest of the students. This unique school is one of its kind in the entire Ladakh area. By providing education at par with normal students, visually challenged children gain confidence and are trained to stand on their own feet. So far, more than 15 visually-impaired children have benefited from this facility. Like other normal students, children who have passed out from this school are either pursuing higher studies or are employed in different sectors.
These students are grateful for the rare opportunity of receiving a good education and a decent upbringing at this institution.
Chunzin Angmo a former MIMC Visually challenged student, finished her schooling from Chandigarh and is now a student of the University of Delhi. Sharing about her new life experience, she says,
"I lost every hope of life when I lost my eyesight at the age of 8. Luckily, I was brought to the Mahabodhi Centre where I met with my beloved Guruji who transformed my darkness with the light of education. Now I am pursuing my higher studies at the University of Delhi. I also have learnt many new things for example sports and basic mountain course…."~ Chunzin Angmo

Interfaith Programmes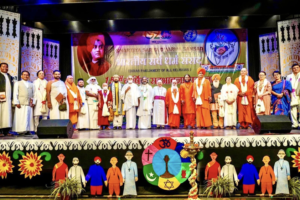 Ven. Bhikkhu Sanghasena is not only passionate about spreading the message of Buddha. Rather, he is also a deeply interfaith person. He organizes interfaith programs in Ladakh by inviting different religious leaders and international organizations working in the direction of peace, harmony and dialogue between religious groups for world Peace.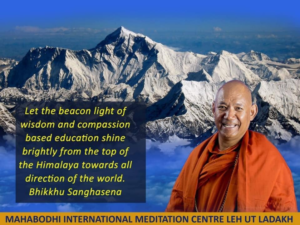 Since its inception, MIMC has been participating in and organizing major inter-religious programs under the Interfaith and Harmony Programmes and Dialogue through local, national, and international inter-faith conferences and seminars in order to raise awareness of inter-religious understanding and global harmony.
By providing a bright future to the impoverished rural children of Ladakh through his multi-pronged efforts, Ven Sanghasena is creating a new generation that is dedicated to meditation in action and compassion in action.
Religions for Peace India, through Ven. Sanghasena's vision and programs, continue to work and contribute for the welfare and protection of children in difficult circumstances.
Religions for Peace is the world's oldest, largest and most representative multi-religious leadership platform, advancing common action among the world's faith communities. Unlike any other interfaith organisation, Religions for Peace works through legally registered, representative, multi-religious platforms (Interreligious Councils) in over 95 countries and 6 regions. We convene to catalyse and promote multi-religious collaboration for the common good. In Asia, Religions for Peace Asia is our regional affiliate founded in 1976. Religions for Peace Asia is part of the global Religions for Peace movement with a mission to advance common action among religious communities in Asia and the Pacific for peace.
By Deepali Bhanot, Chair, Women of Faith, RfP, India