H.H. Swami Sugunendra Theertha: Providing Indian value-based education with modern Schooling
The youngest ever Swami to ascend the Paryaaya Peetham in Udupi, His Holiness Shree Sugunendra Theertha Swamiji is the Pontiff of Jagadguru Shree Madhwaachaarya Moola Mahaa Samsthaanam, Shree Puthige Matha, Udupi, India.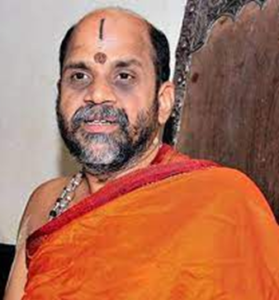 He is a visionary and a modern thinker steeped in tradition and is truly an encyclopaedia of Indian philosophy and religious texts. His Holiness took "Sanyas" (renouncing worldly pleasures in exchange for service to mankind and Almighty) at the age of twelve. Besides being a leader of ancient Hindu philosophy, His Holiness represents the Hindus as the Co-President of Religions for Peace, International and is a very respected Hindu religious leader of Religions for Peace, India. 
The author of many books on religion and philosophy, Swamiji has set up a world-wide Maadhawa Sangha for the propagation of spirituality named Vishwa Maadhawa Sangha. His Holiness has been constantly delivering inspiring and enlightening interfaith communities across the world to propagate universal brotherhood and world peace.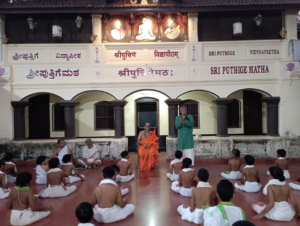 As an erudite scholar, writer and orator, His Holiness has always been in the service of mankind and his multidimensional service activities are widespread across the globe through the several branches of his Matha. His Holiness has set up a number of educational and welfare programmes for the children and youth and has started different types of schools to cater to the needs of the society.
Puthige Vaidika-Loukika Vidyapeetha: (Indian value-based education with regular modern schooling)
India is famous for its spiritual education through the Gurukula system. But at present there are very few places in India where the Spiritual knowledge is given in the Indian traditional Gurukula System. Generally, it is difficult for parents and students to decide whether or not to join full-fledged Gurukula studies leaving the modern schooling system.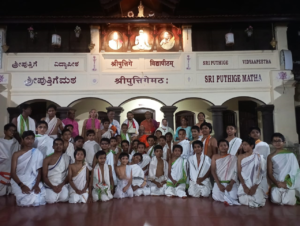 His Holiness believes that spiritual education is the potential weapon to eradicate violence and preserve world peace and harmony. Therefore, he is continuing the ancient Gurukula tradition of India in his Matha in which the students receive education while residing within the premises of the Guru's ashram with the absolute blessings of the Guru.
"According to the Hindu Scriptures, the period of childhood is most important as the whole life of the child would be shaped during that time. Keeping this in view, we are giving importance to the value-based education to the children. We have been running schools and organising camps and also, we are travelling to propagate these values." ~ H.H. Sugunendra Theertha Swami.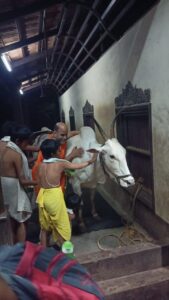 Through this unique Gurukula system, the children are provided with value based Indian traditional education along with modern, regular school academics. This experiment started by His Holiness was first of its kind and it has benefitted many families longing for Gurukula education combined with modern education as it adopts best of both the worlds. The accommodation, food and Indian heritage education is provided totally free of cost. The students have the modern facilities for staying and studying in the Matha. There are two such facilities, one in Udupi town and other in Bangalore City. At present there about 80 students and around 15 teaching staff in this education system. Today, a number of the students from this institution are respectful priests in the temples. Hundreds of graduates from this Vidyapeetha are serving Puthige Matha branches across the globe.
 Along with the main Gurukula at Puthige village in Karnataka, there is also one in Bhadraka, Odisha and one more at Chennai, Tamilnadu, India.
"It has been 7 years since I joined Sri Puthige Vidyapeetha. I learned all Vedic studies starting from wearing panche (dhoti, Traditional Indian dress) at Sri Puttige Vidyapeeth itself. Later, I joined Vidyapeeth Padigaru that was started at Sri Puttige Matha. It was a new experience for us. We used to get up early in the morning and after doing Vedic activities such as Mangalashtaka, Goseva (taking care of the cow), Yoga, bathing, Sandhyavandane etc., we used to study the Vedas. Then we used to go to school at 8 o'clock. In the evening, after returning to the Matha, we practised meditation and continued to study the Vedas again. When I went on a vacation with H.H. Sri Sugunendra Tirtha Swamiji, he taught me the scripture of the Bhagavad Gita. As I was interested in becoming a great scholar, Swamiji made all the arrangements for my studies. The study of Vedas, Vedanta, Grammar, Tarka, Purohitya, and Agama took place from morning to evening in Shri Puttige Vidyapeeth. I also got an opportunity to do special service especially to Lord Narasimha. Along with games and a gala time with my friends I am very happy with my studies at the Puthige Matha. All this is due to the grace of the Guru Sri Sugunendra Theertha Swamiji." ~ Arjuna (Student of Vaidika Vidyapeetha, Puthige Village)
Higher Primary School in Kemundel, Karnataka:

His Holiness Sri SugunendraTheertha Swamiji took over a 120-year-old school in an absolute remote village called Kemundel, in the Karnataka state of India that was almost in closing down stages. He revamped its entire educational system by introducing modern, value-based education in the curriculum.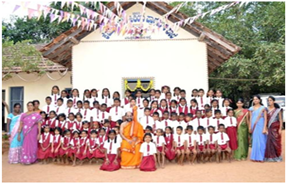 Now this school is a most sought-after school for a number of nearby villages and the number of students increased from 35 to 120 and is increasing year by year. The school is provided with a bus and other basic facilities by H.H. Swamiji to help children from remote places to reach the school. The school children are provided with free education, mid-day meals and free school uniform so that there is no burden on the poor parents of the villages. The school has not only achieved recognition at state and district level in extracurricular activities, but also this school was selected from Karnataka state for the "Inspire Award" by the department of Science and Technology, Government of India.
Seasonal Sessions: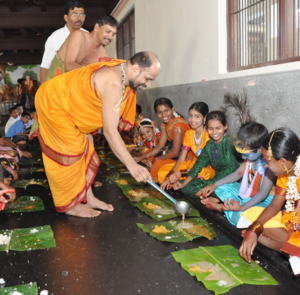 Swamiji's love for children is endless. There are occasional programs conducted during summer holidays and during other festival seasons wherein children learn various aspects of life in a short span of time through fun filled activities. Even during the pandemic Online classes were held to keep the children meaningfully occupied. These programs are conducted periodically in most of the branches of Sri Puthige Matha across India and abroad. Hundreds of children and families benefit from this every year.
Swamiji is also dedicated to the eradication of unemployment and has founded "Suyoga," an institution that imparts training in the rudiments of selected vocations.
By establishing several temples and Mathas in many important cities across the world, His Holiness has fulfilled and graced the spiritual needs of the migrant Indian community and has offered them significant opportunities to pursue their religious practices and to celebrate traditional functions in order to initiate their next generation into the Hindu tradition. His spiritual influence extends far beyond the subcontinents and spans practically the entire world. To him goes the credit of spreading the Indian philosophy and Bhagavad Gita's teaching across the globe.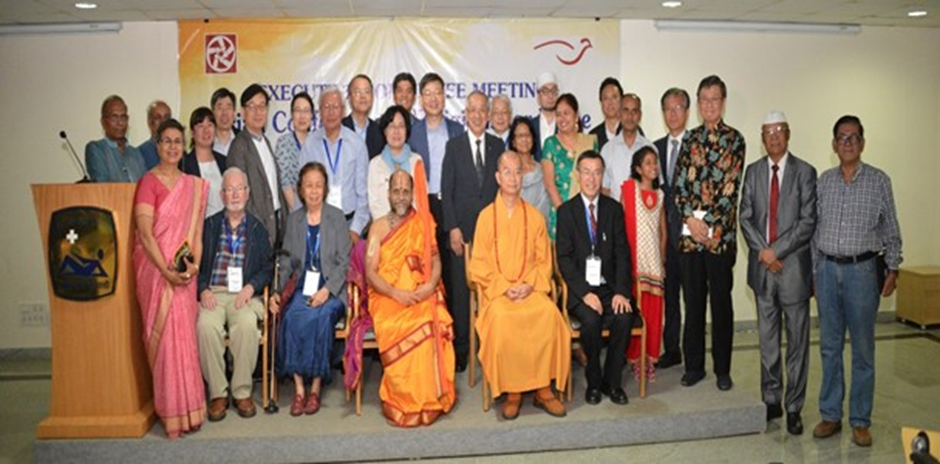 H.H Swami ji graced the ACRP EC Meeting 2018 held at Bangalore, India
Religions for Peace, India will be taking up more projects to provide value-based education to children under the guidance of H.H. Sugunendra Theertha Swami.
Religions for Peace is the world's oldest, largest and most representative multi-religious leadership platform, advancing common action among the world's faith communities. Unlike any other interfaith organisation, Religions for Peace works through legally registered, representative, multi-religious platforms (Interreligious Councils) in over 95 countries and 6 regions. We convene to catalyse and promote multi-religious collaboration for the common good. In Asia, Religions for Peace Asia is our regional affiliate founded in 1976. Religions for Peace Asia is part of the global Religions for Peace movement with a mission to advance common action among religious communities in Asia and the Pacific for peace.
By Deepali Bhanot, Chair, Women of Faith, RfP, India, with inputs from Shri Keshavaraj, Secretary to H.H. Swami S.Theertha