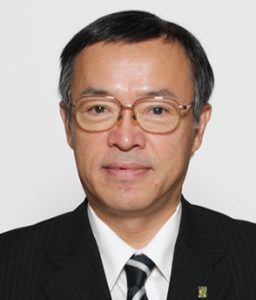 Dr. Nobuhiro NEMOTO (Japan, Buddhist)
PROFILE ☆゚,。・.。*☆゚,。・.。*☆゚
Dr. Nobuhiro Nemoto was born at Iwaki-city of Fukushima Prefecture in 1955. In 1977, he entered the seminary of RKK.
Since 1980 up to now, he has been holding the following positions:
Liaison officer at IARF (International Association of Religious Freedom) secretariat at Frankfurt, Program officer at the UNHCR (UN High Commissioner for Refugees) HQs at Geneva, Head of RKK Public Relations Section, Deputy Director of RKK External Affairs Dept., Minister of RKK Tsuchiura and Kobe Dharma centers, Director of RKK External Affairs Dept., Special Advisor for interreligious cooperation, Chairperson of Donate A Meal Peace Fund, Member of RKK board, Member of WCRP Japan board, Head of the WCRP Japan Task Force for refugee assistance, Executive Specialist of the Secretariat Dept., Co-president of NPO JEN (Japan Emergency NGO).
So far, he has engaged in the assistance activities for the refugees of Vietnam, Cambodia, Kurd, Somalia, former Yugoslavia, and Afghanistan, etc. He also engaged in the emergency relief actions for Hanshin-Awaji Great Earthquake, Eastern Japan Great Earthquake, and so on.
He completed the Graduate Program on "Human Security" at the University of Tokyo. He holds Doctor of Philosophy in the field of Human Security Studies.


SPEECHES AND STATEMENTS ☆゚,。・.。*☆゚,。・.。*☆゚
・Speech at "International Seminar on Interfaith Exchanges and Shared Future for Mankind" in China(Dec 11, 2019)
・2018 Activity Report and General Policy Presentation for 2019 (April, 2019)
・Speech at International Conference – Commemorating the Centennial Anniversary of the March 1st Movement (March 1, 2019)
・2017 Activity Report (April, 2018)
・General Policy Presentation for 2018 (April 2018)
・General Policy Presentation for 2017 (May 2017)

BLOG ☆゚,。・.。*☆゚,。・.。*☆゚
Please also visit
"Voice of Secretary-General, Asian Conference of Religions for Peace/Religions for Peace Asia"