Religions for Peace Thailand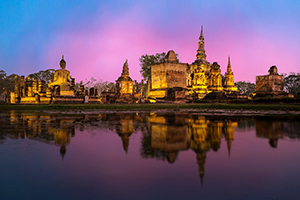 NAME
Religions for Peace Thailand/ Religious for Peace- Inter-Religious Council of Thailand
COUNTRY
Kingdom of Thailand
ADDRESS
Institute of Human Rights and Peace Studies, Mahidol University | Panyaphiphat Building 999 Phuttamonthon 4 Rd., Salaya, Nakhon Pathom 73170, Thailand
WEBSITE/Facebook
[WEB]
  <Religions for Peace Thailand> click here
  <Religious for Peace Inter-Religious Council of Thailand> click here

[Facebook]
  <Religious for Peace Inter Religious Council of Thailand> click here
E-MAIL
suphatmet.yun@mahidol.edu (Religions for Peace Thailand)
keskaews@hotmail.com (Religious for Peace Inter-Religious Council of Thailand)
ABOUT
<Religions for Peace Thailand>
Religions for Peace Thailand is a part of a rapidly growing global network of Religions for Peace which advances common action among the world's religious communities for peace. It has since 2003 embarked on the mission of mobilizing religious leaders and members of religious communities to work in the area of conflict transformation and peace building for Thai society. From 2009 until present Thailand's Southern Unrest has been marked as the key targeted area for RfP Thailand's activities. RfP Thailand via its Inter religious Council also organizes praying and peace walks aimed at raising awareness among Thais that violent means is not a proper solution for any conflict whenever there is a tension between communities or groups of people with different backgrounds and beliefs.
<Religions for Peace-International Council of Thailand>
Realizing the role and responsibility for establishing peace, reconciliation, and harmony, Institute for Human Rights and Peace Studies, Mahidol University and World Religions for Peace (WRC) held a conference on 18-19 May 2010 at CS Pattani Hotel. The participants in this meeting included the social leaders who had mutual agreement to set up Religions for Peace- Inter religious Council of Thailand (RfP-IRC Thailand). The objectives thereof are to provide cooperation to any religious organizations that seek for international peace, and to support the peace process, mutual understanding, and peaceful coexistence within Thai society in a sustainable manner.
ACTIVITIES
・Intra and Inter religious dialogue
・Field trips to learn about peaceful coexistence
・Capacity building workshops
・Youth Camp
NEWS&REPORT
・Annual Report 2019-2020
・Project for Multi-religious Humanitarian Fund in response to Covid-19
・Annual Report 2018-2019
・Annual Report 2017-2018
・Annual Report 2015-2016
・Annual Report 2014-2015