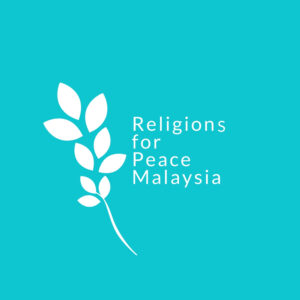 Religions for Peace Malaysia
NAME
Religions for Peace Malaysia
COUNTRY
Federation of Malaysia
ADDRESS

(NEW!)
No. 17, SERAI, Jalan Seri Bukit Segambut 3, Taman Seri Bukit Segambut, 51200 Kuala Lumpur, Wilayah Persekutuan, Malaysia
WEBSITE/Facebook

      [Facebook]  
click here
CONTACT E-MAIL
poeytp@gmail.com / rfpmalaysia@gmail.com
LEADERSHIP

(NEW!)
<Honorary President>
Master Chan Liang
Honorary Advisor of Malaysian Multifaith Association; Vice President of Malaysian Buddhist Association

<President>
Ustaz Muhammad Afifi
Honorary Advisor of Malaysian Multifaith Association; Lecturer of International Islamic University Malaysia

<Secretary-General>
Ustaz Muhammad Afifi
President of Malaysian Multi faith Association; Lecturer of International Islamic University Malaysia

<Head of Youth Division>
Nuranis Fadhilah Binti Mohamed Shuhaimy
Youth Leader of Malaysian Multifaith Association

<Head of Women Division>
Pearly Chan Poh Yee
Secretary-General of Malaysian Multi faith Association

<COMMITTEES>
Sheila Chakrabarty
Marina Lestari Binti Maizal
Faiz Nurekhsan Bin Daud

ABOUT
The roles of Religions for Peace Malaysia (RfPM) from 2006 until today have been clear. It is a promulgation of peace education, peace dialogue, and the globalization of peace culture in order to build unity and harmony in Malaysia as well as in other parts of Asia.

Peace education is about learning and understanding the principles and values of different faiths, ideologies, and cultures with which we share with our communities, our nations, and our world. Peace dialogue offers the hope of transcending barriers of ethnicity, believes, and ideology and of joining us together as fellow human beings, bound by our belief in the dignity and value of life.

The globalization of 'Peace Culture' strives for unity within diversity; the achievement of a universality in which each culture maintains its own traditions.
MAIN ACTIVITIESNEWS&REPORT
・Statement of Religions for Peace Malaysia 
 (1) To promote the characteristics and attributes of the outstanding tradition of multi-faith.
 (2) To advocate harmony and build unity in society.
 (3) To foster a culture of peace through education and communication. 
・The Latest Development of Covid-19 in Malaysia
・Annual Report 2019-2020
・Annual Report 2018-2019
・Annual Report 2017-2018
・Annual Report 2016-2017
・Annual Report 2015-2016
Meaning of Logo
(1) 9 pieces of Barley leaves represent universal love, multi-faith, and multi-culture. Having that in mind RfPM logo design is represented by 9 pieces of Barley leaves. The number 9 in Chinese is perceived as a symbol of love and faith. RfP Malaysia has a firm conviction in living harmony side by side with different faith, religion, and culture.

(2) Barley leaves were chosen as they are associated with potential health benefits. It is used in soups and stews, and in barley bread of various cultures. Barley grains are commonly made into malt in a traditional and ancient method of preparation. Having barley in our diet nourishes our body. Nourishing our bodies will subsequently nourish our minds.
Well as saying that "happy life comes from the happy tummy and happy tummy comes from great food".

(3) As to summarize the logo incorporates the elements of love, faith, culture, happiness, and positivity. These are just the thing we believe in RfP Malaysia.