Mrs. Philippa Rowland (Australia, Buddhist)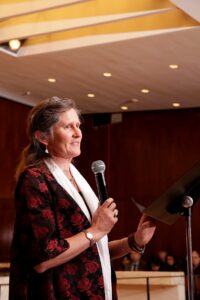 Mrs. Philippa Rowland is current President of the Multifaith Association of South Australia, and the Chair of Religions for Peace Australia. Trained as an agricultural scientist, she worked for the Australian Federal Government on sustainable farming and national environmental management plans for biodiversity, pesticides, heavy metals and ozone-depleting substances.

Since 2003 she has worked on community solutions to climate change, primarily the transition to energy efficiency and renewable energy. Philippa works with the Australian Religious Response to Climate Change as a founding member of the Greenfaith International Network, Sounding the Alarm on Climate and promoting a global Living the Change initiative, designed to encourage collective adoption of sustainable choices in food, transport and energy.