Category:
Executive Committee Meeting Statements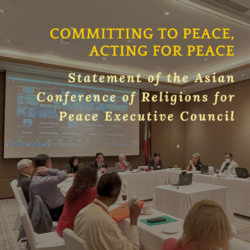 OUR RELIGIOUS CALL: ACTIVELY TRANSFORMING THE EXTREMISTS
 TOWARDS ACHIEVING UNITY AND HARMONY IN OUR HUMAN FAMILY

The first annual meeting of the Executive Committee of the Asian Conference of Religions for Peace / Religions for Peace Asia (ACRP) to be held of the members who had been newly elected at the Incheon General Assembly 2014, was convened in the beautiful city of Bandung in Indonesia from 3rd – 4th June 2015. The meeting was attended by 59 representatives from 16 Asian and Pacific countries.

ACRP in collaboration with the Center for Dialogue and Cooperation among Civilizations (CDCC) launched its annual meeting with an international seminar on Asian Multireligious Action to Overcome Violent Religious Extremism held at Gedung Merdeka, the venue of the historic Asian and African Conference in 1955, which was attended by over 200 delegates.
[…]
The annual executive meeting of the Asian Conference of Religions
for
Peace was held at the Muhammadiyah University in Malang in East Java on 7th – 10th June, 2013. Member nations in attendance were Australia, Bangladesh, Cambodia, China, India, Indonesia, Japan Nepal, North Korea, Pakistan, the Philippines and South Korea as well as Dr Peow, an observer from Malaysia. Especially welcomed for the first time ever was a representative in observer capacity from Timor Leste, Arif Absullah Sagran, president of the Islamic Community Centre of Timor Leste, located in Dili.