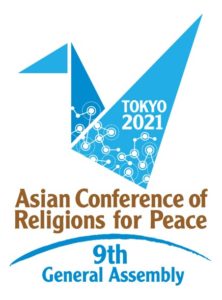 As the host chapter of the next Assembly in Tokyo, Japan, RfP Japan has unveiled the logo for the 9th General Assembly at the ACRP Executive Committee meeting, held on October 14, 2020.
The logo features a folded paper cranes, which is one of the traditional Japanese cultures, to express a prayer for peace and hospitality. The design of the wings of the folded crane reflects the meaning of network, connection, and bond, as well as "TOKYO 2021".


The arc at the bottom represents the horizon and the earth and was created as a symbol of the 9th General Assembly, where religious leaders and people from all over Asia-Pacific will strengthen their cooperation for peace.